Advanced Reporting and Insights
With Kareo Analytics you can see the big picture- then drill down to the finite details of your entire practice
Complete Patient & Document Management
Kareo comprehensive Document Management system allows you to attach old and new records to patient accounts, putting critical information in an organized and accessible system.
Accurate Charge Capture and Management
Easily review charges to ensure every appointment is billed.
Smarter Insurance Billing & Patient Collections
 Our integrated approach gets our providers paid more and faster with advanced claim processing and tracking tools and features that improve accounts receivable visibility.
Secure Messaging System
Built-in secure Messaging lets you communicate with us and other practice staff in an easy and HIPAA-compliant manner. When using the Patient Portal, you can even message your patients!
Powerful Scheduler & Appointment Reminders
Kareo's front office tool lets users customize their schedule, manage patient alerts, and send appointment reminders.
Focus on Giving Quality Care
Web-based medical billing and processing services from MediBill gets you paid faster and improves your productivity by streamlining your entire medical billing and collections process.  Our cloud-based billing service takes care of everything needed to get you paid so you can focus on providing the kind of highest-quality care you can, which is why got into healthcare in the first place!
The top-level clearinghouse, Trizetto, is integrated into our system, resulting in faster claims processing and improved cash-flow.  All you have to do is fax or upload your patients' intakes and daily or weekly charge-slips and we do the rest!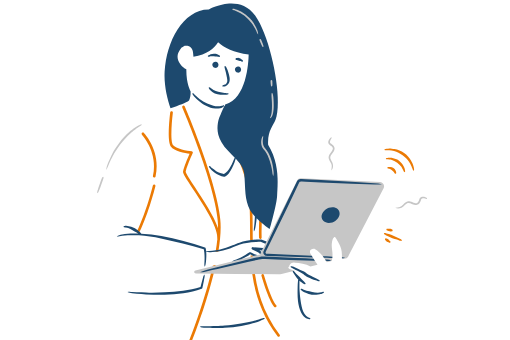 MediBill's In-Depth Services Include:
Enter Patient Information and Demographics 

Verify Eligibility

Enter Charges and check coding

Submit insurance claims

Clearinghouse processing

Address Rejections

Post Insurance payments

Call insurance companies about denials or incorrect claims
Submit Secondary & Tertiary claims

Submit all necessary Corrected/Replacement & Voiding claims

Deal with re-processings, recoupments and refunds

Post patient payments of Copays, Coins & Deductible and keep accurate patient accounts and balances

Mail professional and accurate patient statements, including our toll-free number for them to call us with any questions about their bill.

Email "Make a Payment" button for online patient payments

Administer (optional) Patient Portal

Assist with Reporting for provider tax purposes
Specialists in Cloud-based Medical Claims Processing
Our staff of specialists have proven knowledge in the claims paying process from the time a service is rendered by a health care provider until the balance is paid, with demonstrable skills in ICD, CPT and HCPCS Coding, medical terminology, insurance claims and billing, appeals and denials, fraud and abuse, HIPAA, OIG compliance, information and web technology, reimbursement, and much more.