Kareo Users: Our registration TeBot is designed for you!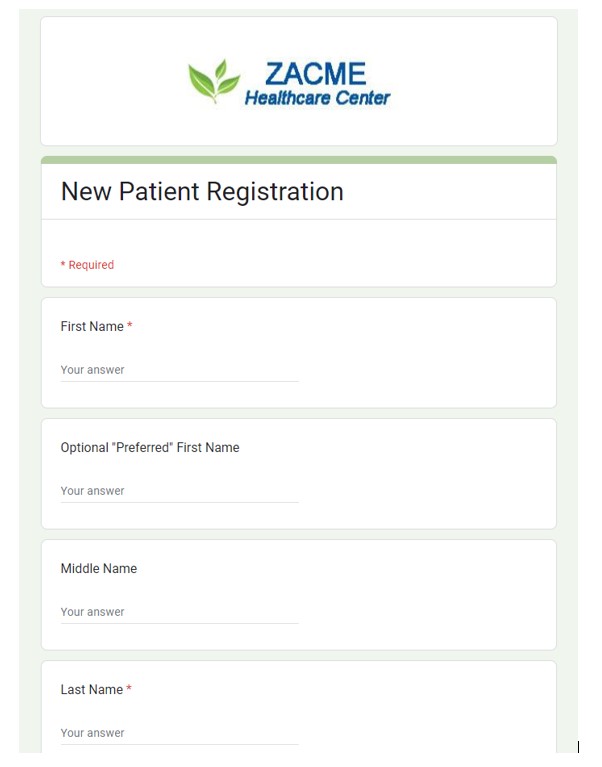 Instead of scribble on a lousy fax, have your new patients enter their own information and have it automatically inserted into Kareo!

Kareo API
Utilizing Kareo's API, the TeBot registration form is a secure online (SSL) form that enables new patients or clients to type in their name, their DOB, address, phone number(s), emergency contact info, responsible party (Guarantor) information, insurance information and a couple other key fields, and this data is automatically populated into the appropriate fields in Kareo!
The only required fields are those needed to bill claims and/or send statements. The registration form also asks if it is:
– Okay to Text Appointment Reminders?
– Okay to Email statement or other reminders? and Are they interested in Telehealth services?

Streamlined Intakes
This method streamlines the intake process and avoids data entry errors by eliminating the paper-based clipboard and fax or scan approach.  A person typing in his or her own name is much more likely to spell it correctly than a biller interpreting handwriting and entering data.  Asking the new patient or client to enter their date of birth, gender and a few other key fields helps enormously as these essential billing questions are often skipped on a paper-based intake forms.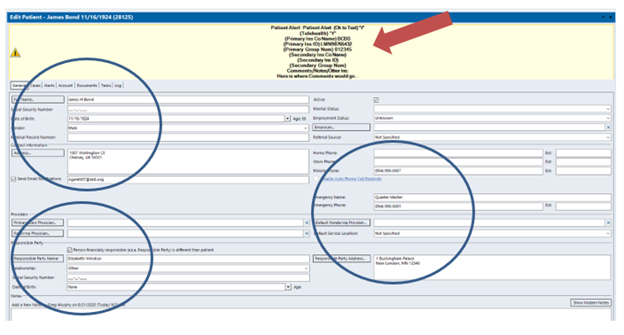 Auto-Populated Fields
Upon submission, the basic Patient Demographic information is instantly populated on the specific practice in a new patient record. The patient record that is created still requires some minor editing; nonetheless the TeBot form dramatically reduces the amount of errors experienced due to poor handwriting, bad faxes, incomplete entries, or simple data entry mistakes. 
Configure Insurance Case
Our application can detect if a patient record already exists on Kareo, and the bot prompts the patient to type in the name of their insurance company, their insurance ID and group number (and any secondary insurance).
This information is delivered to the Alert section of the new patient's record on Kareo, and the biller can use this information to select the appropriate insurance and establish the correct Case, just as they would normally do anyway, but now, 90% of the basic data-keying is done for them and all they have to do is configure the Case.
No Duplicate Records
If a patient record already exists in the Kareo practice with the same first name, last name and DOB as a new registration attempt, the TeBot will send a notification email to the biller including an alert that a potential duplicate record exists.
If a new patient record has to be deleted, our ultra-clean data transmission allows the patient record to be completely removed from the system as long as no Notes, Appointments or other transactions have been entered.  All the biller would have to do to delete this patient is open the record, remove the Default Case (which is empty), then save.  Now the record can be highlighted and deleted on the Patient List.
Utilizes Kareo Alerts
The Alert is an area that is Cut/Copy/Paste enabled, and Alerts do not affect whether a record can be deleted or not.  The TeBot places key information from the online intake into the Alert area, such as insurance ID, where it can be easily copied to the biller's clipboard and entered as needed on the Default Case, or on payer portals to check eligibility, etc.  Then, anything no longer needed in the Alert area can be copied and pasted to the Notes area if desired and the Alert can removed or edited as needed.
Just Send a Link
RegiMate is accessible through a simple link specifically configured to a unique practice on the Kareo platform.  Simply send this link to your prospects via email or text, or put the link right on your practice's website!  The name of your practice is displayed across the top of the first page of the form, so your prospects know exactly who they are registering with.
In this modern age, most patients expect the latest technology and are quite comfortable using their mobile device to make purchases, check balances and conduct other important business right from their phones- now your practice can give them an easy, seamless and high-tech way to onboard with you!
Automatic Notifications
The TeBot automatically notifies your biller that a new record was created in specific practice and so it can be opened and configured to be ready to send claims.  It makes their job easier too!
For now, our registration Tebot is available to MediBill clients at no cost. Please contact Greg if you're interested in utilizing this service, whether or not you're a MediBill client.